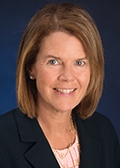 Jackie Roberts is a Managing Director and Chief Sustainability Officer for The Carlyle Group. She is based in Washington, DC.
Prior to joining Carlyle, Ms. Roberts spent 17 years at the Environmental Defense Fund where she launched and led the first-ever NGO-Business Corporate Partners and served as Director of Sustainable Technologies and Senior Director of the Climate and Energy Idea Bank. Previous jobs included a one-year faculty appointment at Harvard Business School and work as an engineer at the U.S. Environmental Protection Agency.
Ms. Roberts holds a BS in chemical engineering from Yale University, an MBA from Yale School of Management, and a master's degree in environmental studies from Yale School of Forestry and Environmental Studies.