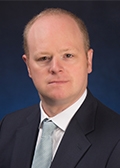 Ian Jackson is a Managing Director and Co-Head of Carlyle Strategic Partners, focusing on distressed & special situations investment opportunities. He is based in London.
Prior to joining Carlyle, Mr. Jackson was a Director and senior analyst with Deutsche Bank's European Distressed Products Group in London for four years, investing across the capital structure from senior secured debt to equity, liquidations, refinancing, private equity and special situations.
Prior to that, Mr. Jackson spent five years working for Deutsche Bank's Japanese Distressed Products Group in Tokyo acquiring non-performing loan portfolios and trading Yen-denominated corporate bonds into U.S./European clients. Mr. Jackson currently serves on the Board of Directors of Nationwide Accident Repair Services, Akari Care Group and BIS Industries. Mr. Jackson formerly served on the Board of Directors of Brintons Carpets Limited, Sterling LLC and was the Chairman of the Supervisory Board of both Klenk Holz AG and KAP Beteiligungs AG.
Mr. Jackson received a B.Sc. (Hons) from City University London Business School.