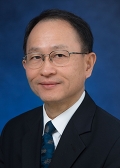 Herman H. Chang
Location
Hong Kong, China
Herman Chang is a Managing Director of the Asia Buyout team, a group that makes large control and strategic minority investments in Asia at The Carlyle Group; Mr. Chang is focused on the industrial sector. He is based in Hong Kong. 
Prior to joining Carlyle, Mr. Chang ran a global business unit and the Asia Pacific region for Delphi. He held positions in products, operations and general management in the 20 years with General Motors and Delphi, of which 11 years in China.
Mr. Chang is on the board of directors of Tongyi Lubricant, Atotech, AsiaSat and Tuhu.
Mr. Chang received an engineering Ph.D. degree from Northwestern University. He was the recipient of 2010 One Carlyle award.