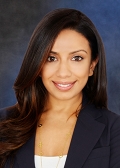 Grishma Parekh is a Managing Director, founding partner of Carlyle Direct Lending and Head of Origination for Illiquid Credit Strategies. She is also a member of the Investment Committees of BDC I and II. She is based in New York.
Prior to joining Carlyle in 2007, Ms. Parekh was an investment banker with JPMorgan where she was responsible for the underwriting, structuring, execution and distribution of leveraged loans, bridge financings and high yield bonds.
Ms. Parekh has served as a board member or observer for several companies across a wide spectrum of industries including Shari's Management, Document Technologies, FishNet Security, Garretson Resolution Group and Targus Group International. Additionally, Ms. Parekh co-led Carlyle's New York Women's Employee Resource Group and served on the firm's Diversity and Inclusion Council.
Ms. Parekh received a Bachelor of Science in finance and information systems from Stern School of Business at New York University.