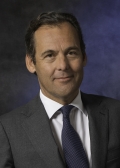 George Westerkamp
Location
Amsterdam, Netherlands
George Westerkamp is a Managing Director in the Investment Solutions team at AlpInvest and is a member of the Operating Committee.
From 2000 to 2010 Mr. Westerkamp was a Partner in the AlpInvest Co-Investment team, where he focused on buyout transactions in Europe. From 2000 to 2012 he was a member of the Investment Committee.
Mr. Westerkamp joined AlpInvest from its predecessor, Parnib, where he was executing middle market buyout transactions in the Netherlands. Prior to his position at Parnib, he was based in Singapore, where he was responsible for the asset finance activities of NIB Capital in Asia.
Mr. Westerkamp received an MSc in business economics from Erasmus University Rotterdam.