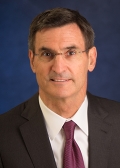 George Ruhlen is a Managing Director focused on U.S. real estate opportunities. He is based in Washington, D.C.
Prior to joining Carlyle in 2006, Mr. Ruhlen was a partner in the law firm of Mayer Brown, LLP. At Mayer Brown, Mr. Ruhlen was a firm practice leader for its U.S. real estate practice group. Mr. Ruhlen's legal practice focused on the representation of public companies and other institutional real estate investors, owners and operators.
Mr. Ruhlen received his J.D. from the University of Texas Law School and his B.A. from Rice University.