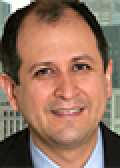 Felipe Dorregaray is a Managing Director and Chief Financial Officer of Metropolitan and a senior member of the investment team. He is responsible for finance and administration and supports all aspects of fund management activities including investments and client service.
Prior to joining Metropolitan at its inception, Mr. Dorregaray was a Vice President at D. Sherman & Company, Inc. Prior to that, Mr. Dorregaray served as the Latin American Equities strategist at ABN AMRO. Mr. Dorregaray's research experience began in 1996 when he joined Salomon Smith Barney's REIT research group.
Mr. Dorregaray received a B.S. in Physics and Mathematics from the University of Miami and an M.B.A. from American University.