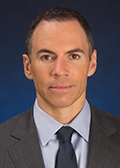 Evan Middleton is a Partner with Carlyle Strategic Partners, focusing on distressed and special situations investment opportunities. He is based in New York.
Prior to joining Carlyle, Mr. Middleton was a Managing Director at American Securities Opportunities Fund, a New York-based private equity firm managing approximately $2 billion of capital. Mr. Middleton spent eight years investing on behalf of the firm, where he focused on control and non-control distressed opportunities in a broad range of middle-market companies facing operational and financial challenges. Before American Securities, Mr. Middleton was a Vice President at Evercore Partners, a leading independent investment banking advisory firm, where he was involved in numerous restructurings, recapitalizations, and mergers and acquisitions transactions for companies across a variety of industries. Mr. Middleton began his career with Bowles Hollowell Conner, a Charlotte-based mergers and acquisitions advisory firm, where he focused on executing middle-market sell- and buy-side transactions for private equity firms.
Mr. Middleton received a BA in mathematics and economics, with a minor in Japanese language, from University of Virginia.