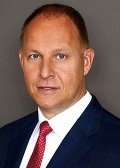 Mr. Savi is a Managing Director and Global Head of Carlyle Infrastructure Credit. He is based in New York. 
Mr. Savi is responsible for overseeing and originating private investment grade, below investment grade, and mezzanine debt investments in global infrastructure projects across the power, energy, transportation, water/waste, telecom, and social infrastructure sub-sectors. Prior to joining Carlyle, Mr. Savi was a Managing Director and Global Head of Infrastructure Debt at BlackRock. Before joining BlackRock in 2013, Mr. Savi worked at WestLB and Merrill Lynch, focusing on credit investments in the power and energy industries. Earlier in his career, Mr. Savi built and led MetLife's Global Infrastructure Debt business. 
Mr. Savi received his MBA from New York University's Stern School of Business and his BS in chemical engineering from The Cooper Union.