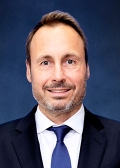 Eric J. Kump is a Managing Director and Head of Carlyle Sub-Saharan Africa Fund. He is based in London.
Mr. Kump has more than 20 years of private equity experience spanning four continents and numerous sectors.
Prior to joining Carlyle in 2010, Mr. Kump was a Managing Director and Head of the European Private Equity team of Dubai International Capital. Prior to that, he was a Managing Director with Merrill Lynch Global Private Equity, where he was a member of the global investment committee. 
Mr. Kump is on the boards of several portfolio companies.
Mr. Kump received his MBA from Harvard Business School and his BA in finance and accounting from Pace University.