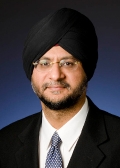 Devinjit Singh is a Managing Director focused on significant sized growth capital and buyout opportunities across sectors in India. He is based in Mumbai.
Prior to joining Carlyle, Mr. Singh was Managing Director and Head of Citigroup's Mergers & Acquisitions business in India. In this role, he led several landscape changing transactions including Tata's acquisition of Jaguar Landrover from Ford, Wipro's acquisition of Infocrossing, the sale of Larsen and Toubro's RMC business to Lafarge and the sale of Punjab Tractors to Mahindra and Mahindra. In previous assignments over ~20 years at Citigroup, Mr. Singh advised and led several capital raisings for India's leading corporates.
Since joining Carlyle in 2008, Mr. Singh has been involved with investments in HDFC (NSE: HDFC) and India Infoline (NSE: IIFL).
Mr. Singh is a member of the India Advisory Board of The Fuqua School of Business, Duke University.
Mr. Singh received his MBA from The Fuqua School of Business, Duke University, and has a B.A. (Honors) in Mathematics from the University of Delhi.