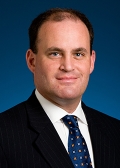 David Stonehill is a Managing Director in the Carlyle Equity Opportunity Fund. Mr. Stonehill is based in New York.
Since joining Carlyle in 2010, David has been actively involved with the firm's investments in Array, Blyth (since merged with CandleLite to form Luminex), Claritas, Dynamic Precision Group (DPG), Galaxy Brands (since merged with Sequential Brands: SQBG), InterLink Maritime, Philadelphia Energy Solutions (PES, formerly known as the Sunoco Philadelphia Refinery), PrimeSport, Seacor, Service King, Talent Partners (since merged with Extreme Reach), Traxys and WorldStrides (since sold to MetalMark). Mr. Stonehill currently serves on the Board of Directors of Array, Interlink Maritime, PES, PrimeSport, Service King, and Traxys, and previously served on the board of DPG, Galaxy Brands, Talent Partners, and WorldStrides.
Prior to joining Carlyle, David was an Executive Managing Director and the Head of U.S. Private Investments at Och-Ziff Capital Management. While at Och-Ziff, David and his team were involved in over 25 transactions representing over $1.75 billion of invested capital. He also previously served as a Principal in the Private Equity Group at Blackstone in addition to working at Chartwell Investments and Bain & Co.
David received his MBA from Harvard Business (where he was a Baker Scholar,) his JD from Harvard Law School (with honors) and his AB from Harvard College (with honors.)