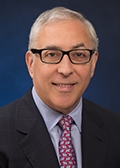 David Sherman is a Co-Founder of Metropolitan and Chair of the Investment Committee. Mr. Sherman has more than 30 years of real estate experience. In addition, Mr. Sherman is a Co-Director of the Paul Milstein Center for Real Estate at Columbia University Graduate School of Business Administration. He is based in New York.
Prior to founding Metropolitan, Mr. Sherman founded D. Sherman & Company, Inc., an advisory firm focused on strategic issues and transactions in the real estate securities industry. Previously, Mr. Sherman was the Managing Director of Salomon Smith Barney's REIT research team, which covered more than 60 stocks and supported the firm's $15 billion of REIT offering activity. At Salomon Smith Barney, Mr. Sherman created a new approach to evaluating real estate securities and initiated global coverage of the sector. The team received recognition from Institutional Investor Magazine in 1998 and 1999. Mr. Sherman also held other positions in real estate finance, investment banking, and strategic planning at Salomon Smith Barney, The Harlan Company, First Boston, and Paine Webber, including acting as the Chief Financial Officer of Paine Webber Properties, a family of real estate funds with over $500 million in property investments.
Mr. Sherman is a member and former Chairman of the Pension Real Estate Association (PREA) Institute Committee. Previously, Mr. Sherman was an Adjunct Professor of Real Estate Finance at Columbia Business School. Over the years, Mr. Sherman has published numerous articles in periodicals including American Banker, Pension Real Estate Association Quarterly, Shopping Center Business and National Real Estate Investor.
Mr. Sherman received his B.A. in mathematical economics (magna cum laude) from Brown University and his M.B.A. in finance from Columbia Business School.