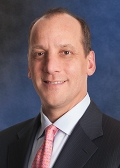 David M. Marchick serves as Managing Director and Global Head of External Affairs and serves as a Member of the firm's Management Committee. He serves on the board of directors of the Traxys Group.
Prior to joining Carlyle, Mr. Marchick was a partner and Vice-Chair of the international practice group at Covington & Burling. Mr. Marchick is a past Chairman of the Board of the Robert Toigo Foundation, an organization committed to enhance diversity in the financial services industry, and is on the board of the U.S. Holocaust Memorial Museum.
Mr. Marchick is the co-author of the book "U.S. National Security and Foreign Direct Investment" (Institute for International Economics, May 2006) and has authored numerous articles in major business and trade publications.
Prior to joining Covington & Burling in 2002, Mr. Marchick worked on then-Governor Clinton's 1992 campaign and served in four departments – the White House, USTR and Departments of State and Commerce – over seven years in the Clinton Administration.
Mr. Marchick earned his J.D. from The George Washington University Law School, his M.A. from the University of Texas and his B.A. from the University of California, San Diego. He was admitted to the Washington, D.C. Bar Association in 1998 and the State Bar of California in 1996, but is currently inactive.