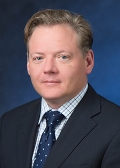 Daniel East is a Managing Director focused on mezzanine investment opportunities in the energy sector. He is based in Houston, Texas.
Prior to joining Carlyle, Mr. East worked as Senior Vice President and Treasurer at KGen Power Corporation where he focused on strategy and M&A opportunities. Prior to that, Mr. East was a Senior Director at Dynegy Inc., where he focused on managing the analysis of M&A transactions and originated structured transactions in the energy commodity markets.
Mr. East received his M.B.A. from Rice University and holds a B.B.A. in finance from the University of Houston.