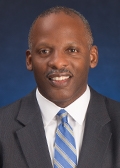 Curtis Johnson is a Managing Director on the Carlyle Investor Relations team. He is based in New York.
Prior to joining Carlyle, Mr. Johnson was a Director of Institutional Business Development at Schroder Investment Management. Before joining Schroders, Mr. Johnson spent seven years at Black Rock, where he was responsible for marketing Black Rock's platform of long-only and alternative strategies to institutional plan sponsors in the United States. Prior to joining Black Rock, Mr. Johnson spent seven years at Prudential Investment Management in a variety of marketing and business roles.
Mr. Johnson received his MBA from University of Michigan and a BA from University of Rochester. He currently maintains Series 7, 24 and 63 licenses as well as registrations in all 50 states, Puerto Rico and the Virgin Islands.