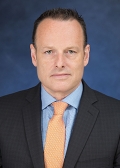 Colin Atkins is a Managing Director and Head of the Europe Loans & Structured Credit advisory team based in London. 
Mr. Atkins joined the firm in 2004 as Head of Credit for the European Leveraged Finance business, a role in which he worked on many notable transactions, before taking on his current position. 
Mr. Atkins came to Carlyle from Prudential M&G where between 1999 and November 2004, he helped establish Prudential M&G's Leveraged Finance platform, which became a market leader in the European institutional market. Over the five year period, the business invested over €2.5 billion in leveraged finance assets and Mr. Atkins had responsibility for primary market execution and secondary market loan trading. Mr. Atkins previously worked in Corporate Private Placements at PPM America in Chicago and held positions in Prudential M&G's Corporate Tax and Treasury departments.
Mr. Atkins holds a B.A. (Hons) in accounting & finance from Nottingham Trent University.
He is a member of The Association of Chartered Management Accountants (ACMA) and is a CFA charter holder. Mr. Atkins has been registered with the FSA since 2010 for the CF30 and CF4 controlled functions.