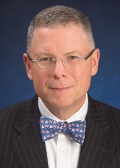 Christopher W. Ullman is a Managing Director and the Director of Global Communications. In this position he develops and executes the firm's external and internal communications and branding strategies and leads a team of eleven professionals in the U.S., Europe and Asia. He joined the firm in November 2001 and is based in Washington, DC.
The Global Communications Group is responsible for corporate branding, media relations, corporate website and employee intranet, internal communications, corporate videos, annual report, CSR program, supporting portfolio company communications and public speaking engagements.
Prior to joining Carlyle, Mr. Ullman was Director of Communications at the U.S. Office of Management and Budget. Prior to that, he served as Public Affairs Director and Spokesman for the U.S. Securities and Exchange Commission. Before that, Mr. Ullman served as Director of Communications for the U.S. House of Representatives Budget Committee. Prior to these government positions, Mr. Ullman was Vice President of a Washington-based public relations firm.
He is a board member at the Fund for American Studies, Institute on Comparative Political and Economic Systems. Mr. Ullman's essay, "Communications Best Practices", was published in 2011 by Private Equity International.
Mr. Ullman earned his B.A. in political science from Binghamton University. He is a four-time national and international whistling champion and avid cyclist.