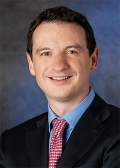 Chris Scott is a Managing Director responsible for capital markets financings across the European activities of Carlyle. He co-ordinates financing for new buyouts, IPOs, debt raisings for refinancing and amendment activities. Recent deals include ADB Safegate, Praesidiad, European Camping Group, Comdata, InnoVista Sensors, Irca, Golden Goose DB, Hunkemoller, Cupa, The Innovation Group, PA Consulting and Marelli Motori. Mr. Scott is based in London.
Prior to joining Carlyle, Mr. Scott was a Director of HSBC Leveraged Finance.
Mr. Scott holds a M.A. in Economics from the University of St. Andrews and is a fellow of the Institute of Chartered Accountants in England & Wales.