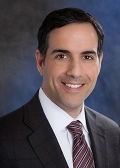 Chris Perriello is a Managing Director in the Secondary Investments team and focuses on transactions in the US market.
Mr. Perriello joined AlpInvest Partners in 2007 from Paul Capital Investments, where he was a Principal focused on fund investing. Previously, he was a Principal at Invesco Private Capital responsible for evaluating venture and LBO fund investments as well as direct investments.
Mr. Perriello received a BA in Economics, cum laude, from the University of Pittsburgh and an MBA from The Georgia Institute of Technology. He represents AlpInvest Partners on the Advisory Boards of Ridgemont Equity Partners and Aurora Resurgence.