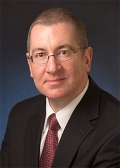 Chad Means is a Principal focused on HR Operations in the global human resources group. He is based in Washington, DC.
Prior to joining Carlyle, Mr. Means was Executive Director of U.S. Employment Matters for Grant Thornton LLP, the global accounting firm. While at Grant Thornton, he was responsible for all aspects of human resource management including compensation, employee relations, performance management, career development, benefits, immigration matters, work/life programs, and risk management.
Mr. Means received his B.A. from William Jewell College.