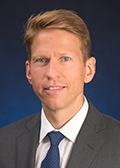 Brynjar Agnarsson is a Managing Director in Investor Relations serving as Global Credit specialist for Europe.
Prior to joining Carlyle, Mr. Agnarsson was a Principal at Blackstone where he worked in the Park Hill Group team where he worked in investor relations covering European clients. Prior to Blackstone Mr. Agnarsson held positions at Asset Alliance and at Credit Lyonnais Securities Asia.
Mr. Agnarsson graduated with BA (Hons) in geography & development studies from SOAS in 2000 and completed the corporate finance executive programme at the London Business School in 2003.