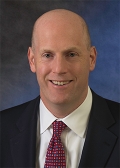 Bryan Corbett is a Managing Director in the Corporate Private Equity segment and Head of the firm's OneCarlyle Global Investment Resources Group.
As head of the Global Investment Resources Group, Mr. Corbett and his team provide strategic and operational support to investment teams and portfolio companies across segments. He has served on the boards of several Carlyle portfolio companies.
Prior to joining Carlyle, Mr. Corbett served in the Bush Administration as a Special Assistant to the President for Economic Policy and as the Senior Advisor to Deputy Secretary Robert Kimmitt at the Treasury Department. He also served as Majority Counsel on the Senate Banking Committee.
Mr. Corbett received his JD from George Washington University Law School, where he was editor-in-chief of the George Washington Law Review. He received a BA from University of Notre Dame.