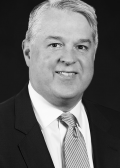 Brooke B. Coburn is Deputy Chief Investment Office of Carlyle's Real Assets segment, which includes Carlyle's energy, renewables, thermal power, infrastructure and real estate investment activities. He serves on the firm's Management Committee.
Mr. Coburn serves on the investment committees of Carlyle's three principal Energy & Natural Resource funds: Carlyle International Energy Partners (CIEP), Carlyle Power Partners (CPP) and the Carlyle Global Infrastructure (CGI) fund. Additionally, he represents Carlyle on the investment committee of the firm's strategic partner for North American energy investing, NGP Energy Capital Management. 
Mr. Coburn started his career in 1996 with the U.S. Buyout team and is a founding member of Carlyle's U.S. middle market buyout and growth capital business. Over the past two decades, he led or co-led more than 25 Carlyle investments across a broad range of sectors, including communications, digital infrastructure, software and technology-enabled services, cybersecurity, and energy and natural resources.
Mr. Coburn received his BA from Princeton University with honors.
Mr. Coburn is on the Board of Directors of Coalfire and Discover Exploration.