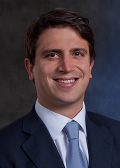 Benjamin Deshayes is a Director advising on Europe buyouts; he is based in Paris.
Since joining Carlyle in February 2007, Benjamin has been actively involved in current portfolio companies Saverglass, Custom Sensors & Technologies (CST) and Sagemcom. He was also a member of the transaction teams that executed Carlyle's investments in B&B Hotels, Numericable-Completel and Com Hem.
Prior to joining Carlyle, Benjamin was with Goldman Sachs' Investment Banking Division in London and in Paris. 
Benjamin is a graduate from Sciences Po (Institut d'Etudes Politiques de Paris) and received a master's degree in finance with honors from ESCP.
Benjamin is currently serving on the Board of Directors of Saverglass, CST and Sagemcom. He was previously on the Board of Directors of B&B Hotels and Com Hem and was an observer on the Board of Directors of Numericable-Completel.