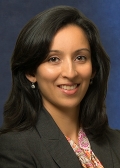 Anita Balaji is a Managing Director with U.S. Buyout, where she focuses on buyout opportunities, privatizations and strategic minority investments in the consumer and retail sector. Ms. Balaji is based in New York.
Since joining Carlyle in 2006, Ms. Balaji has been actively involved in Carlyle's investments in Acosta Sales & Marketing, NBTY, Inc. (acquired in partnership with Carlyle's Europe Buyout Fund) and Dunkin' Brands, which was exited in 2012 following an initial public offering
Prior to joining Carlyle, Ms. Balaji worked as a generalist at Behrman Capital, a private equity firm based in New York. Previously, she was with the mergers and acquisitions group at Goldman Sachs, focusing on consumer and retail transactions.
Ms. Balaji received her M.B.A. from Harvard Business School. She graduated Phi Beta Kappa from Wellesley College with a B.A. in mathematics and chemistry.
Ms. Balaji serves on the Board of Directors of Acosta Sales & Marketing.