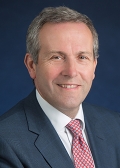 Andrew Burgess is a Partner at The Carlyle Group and Managing Director advising on Carlyle Europe Partners, originating and leading buy-outs for services and consumer businesses, as well as board representation, strategy delivery, planning and delivering realisations of investments. Mr. Burgess joined Carlyle in 2005 and is based in London.
Prior to joining Carlyle, Mr. Burgess was a Director of Bridgepoint, the pan-European Private Equity fund manager, where he was responsible for deal origination, execution, portfolio management and realisations.
Mr Burgess received a B.Sc. (Hons) in accountancy with law and economics and is a member of the Institute of Chartered Accounts in England and Wales.
He currently serves on the boards of MyDentist, PA Consulting, Innovation Group and Addison Lee. He was previously on the Boards of RAC Breakdown Group, Zodiac Marine (USA), Britax Childcare and De La Rue Cash Systems. Andrew is a Member of European Investment Committee.