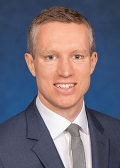 Andrew Lester is a Director and part of the CIEP founding team, focused on energy investments outside North America. Mr. Lester has over a decade of experience in finance and investments in the energy sector, predominantly in oil and gas but also renewable energy. Within the team Mr. Lester has a focus on the downstream sector and has been particularly involved in the Varo Energy investment, including the significant acquisitions and mergers that were part of its buy-and-build strategy.
On the upstream side, Mr. Lester was part of the team that acquired the onshore assets of Shell in Gabon, Assala Energy. He remains actively involved in both companies including as a member of their Audit Committees and was also seconded temporarily as Interim-CFO of Varo.
Mr. Lester is based in London but has lived and worked in Switzerland and Belgium.
Prior to joining Carlyle, Mr. Lester worked at AtlasInvest where he was involved in M&A activity across the energy sector. His experience included multiple investments in oil and gas, renewable and alternative energy. Mr. Lester has taken operational roles within companies as part of an investment. Before joining AtlasInvest he worked at Petroplus, the downstream business founded by Marcel van Poecke, in the Corporate Strategy team and also spent more than a year working at a refinery in Switzerland. He started his career with Ernst & Young.
Mr. Lester holds a BSc in Economics from the University of Nottingham.