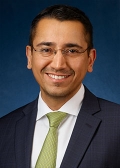 Amit Sachdeva
Location
Hong Kong, China
Amit Sachdeva is a Managing Director in AlpInvest Partners' Co-Investment team, where he focuses on equity transactions in Asia and Australia. He is based in Hong Kong. 
Mr. Sachdeva rejoined AlpInvest in 2018 after about three years at Neuberger Berman in Asia. Prior to that, he worked at AlpInvest for eight years in our Hong Kong-based Co-Investment team from 2008 to 2016. Before that, he was with JP Morgan in New York. He started his  career in 2000 as a Supply Chain Management Consultant in the United States at i2 Technologies and LogicTools.
Mr. Sachdeva received a bachelor's of technology at the Indian Institute of Technology, an MS at Northwestern University and an MBA in finance from The Wharton School at the University of Pennsylvania.