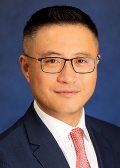 Alex Wang
Location
Hong Kong, China
Alex Wang is a Director in the Investor Relations team. He is based in Hong Kong.
Prior to joining Carlyle, Mr. Wang was a Director at Bain Capital covering the firm's Investor Relations in Greater China. Before working at Bain Capital, Mr. Wang was with Deutsche Bank responsible for the firm's China client relations. Prior to that, Mr. Wang worked at Campbell Lutyens, where he was responsible for developing the firm's China investor base.
Mr. Wang received his M.B.A. from Georgetown University and a B.E. from Liaoning University of Technology.