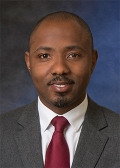 Adebayo Kazeem is a Principal focused on Africa buyout and growth opportunities in Sub-Saharan Africa.  He is based in Lagos, Nigeria. 
Prior to joining Carlyle, Adebayo was a Director of oil and gas investment banking at Renaissance Capital based in Lagos, Nigeria, where he focused on origination and execution of transactions for Sub-Saharan Africa companies.  He also worked as a generalist on the Equity Capital Markets team. 
Prior to that, Adebayo worked for Lehman Brothers focused on the European natural resources sector and prior to that, he worked as a solution architect and account manager for Micromuse Limited (now an IBM Company), an enterprise software provider based in London. 
Adebayo received an MBA from INSEAD, an MSc Petroleum Engineering from Imperial college, London, and a BSc Mechanical Engineering from the University of Lagos.