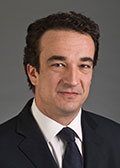 Olivier Sarkozy is a Senior Advisor to The Carlyle Group. He is based in New York.
From 2008 to 2016, Mr. Sarkozy was a Carlyle Managing Director and head of the Global Financial Services group focusing on investing in management buyouts, growth capital opportunities and strategic minority investments in financial services.  Mr. Sarkozy led investments in such transactions as Athena, Butterfield, TCW, Bank United, Central Pacific and Duff & Phelps amongst others. Prior to joining Carlyle, Mr. Sarkozy was Global Co-Head of the Financial Institutions Group at UBS Investment Bank.  He joined UBS in January of 2003, after spending 11 years at Credit Suisse First Boston, where he was a Managing Director in the Financial Institutions Group.  While at UBS, he worked on many of the largest mergers in the U.S. financial industry, including advising Sallie Mae in its attempted $25 billion take-private transaction and subsequent recapitalization, Mellon on its $17 billion merger of equals with The Bank of New York, Charles Schwab on its sale of US Trust to Bank of America, MBNA on its $36 billon sale to Bank of America, Wachovia in its $14 billion acquisition of Southtrust, National Commerce in its $7 billion sale to Suntrust and Regions Financial in its $6 billion merger of equals with Union Planters.  While at CSFB, Mr. Sarkozy advised Wachovia in its merger of equals with First Union and concurrent defense against a competing hostile proposal from Suntrust, Dime Bancorp in its merger with Washington Mutual, Corestates Financial in its sale to First Union, Wells Fargo in its merger with Norwest and Wells Fargo in its successful hostile acquisition of First Interstate, amongst others.
In addition, Mr. Sarkozy was responsible for a number of important equity capital raising transactions, including CIBC $2.9 billion recapitalization and Sallie Mae in its $3.0 billion recapitalization.   He also acted as lead advisor in a number of other notable transactions, including Dime Bancorp's private placement of preferred and other equity securities to Warburg Pincus, as part of their successful defense against a hostile tender offer from North Fork to the recapitalization of Glendale Federal Bank, the largest recapitalization in U.S. history.
Mr. Sarkozy received his Masters in Medieval History (with Honors) from St. Andrews University in Scotland.
Mr. Sarkozy holds Series 7 and 24 licenses.