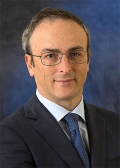 Alex Wagenberg is a Managing Director advising Carlyle's funds on European buyout opportunities. Mr. Wagenberg joined Carlyle in 2000 and has been a Managing Director since 2008.
Since joining Carlyle, Mr. Wagenberg has worked on many notable deals including the acquisitions of Applus+ and Telecable; serving on the boards as well as the board of Spanish online travel agency, Rumbo.  He was also a key player in the acquisition of the Saprogal Group in 2004.
Prior to joining Carlyle, Mr. Wagenberg spent six years in operational roles as CFO of eDreams, Inc. in Barcelona, and COO of a construction and distribution business in South America.  He also worked for seven years in the M&A department of Goldman Sachs, operating from their New York, London and Madrid offices.
Mr. Wagenberg is a Phi Beta Kappa and magna cum laude graduate of Princeton University, with a degree in civil engineering and operations research.